The Northern California Time of Remembrance committee (Florin, Lodi, Placer County, and Sacramento JACL chapters) announces a program commemorating the 30th anniversary of passage of the Civil Liberties Act of 1988 on Saturday, February 9, 2019 from 1:00 to 4:00 p.m. at the California Museum located at 1020 O Streets, Sacramento, CA 95814.
"REVISITING VITAL CIVIL RIGHTS LESSONS OF THE 1988 REDRESS VICTORY FOR TODAY'S DIVIDED COUNTRY"
Saturday, February 9, 2019
1:00 to 4:00 p.m.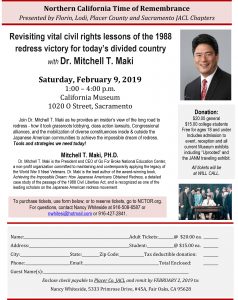 Thirty-years ago, President Ronald Reagan signed The Civil Liberties Act of 1988, attempting to correct one of the United States' most egregious Constitutional tragedies, President Franklin Roosevelt's Executive Order 9066, the incarceration of 120,000 Japanese Americans during World War II.
Along with a formal apology from the federal government, the Act provided reparations in the form of $20,000 in redress, to those Japanese Americans still living who had survived their terms of incarceration. The Act came after a decade long legislative process, Congressional wrangling, and previously unheard emotional testimony from these aggrieved Americans.
Dr. Mitchell T. Maki, co-author (with Harry Kitano and Meghan Berthold) of Achieving the Impossible Dream: How Japanese Americans obtained redress, and president of the Go For Broke Foundation, is the keynote speaker and will provide an insider's view of the long road to redress –insight, reflection, and analysis of how this historic legislation came to be.
Floyd Shimomura, National JACL President (1981-1984) to be honored with the Mary Tsuruko Tsukamoto Education Award, in recognition of outstanding accomplishments and contributions in educating the public and future generations during the redress campaign.
Donation: $20.00 general, $15.00 college students and free for ages 18 and under, which includes admission to event, reception and all current California Museum exhibits including "Uprooted" and the Japanese American National Museum traveling exhibit "Before They Were Heroes: Sus Ito's World War II Images".
To purchase tickets or reserve tickets, go to NCTOR.org. For questions, contact Nancy Whiteside at 916-508-6587 or (nwhitesi@hotmail.com) or 916-427-2841.