Sacramento Premiere of "Honor and Sacrifice: Nisei Patriots in the MIS"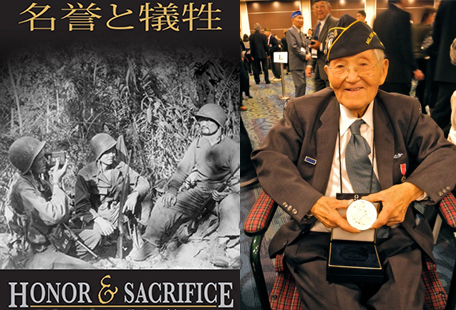 The film chronicles Roy Matsumoto and his service in the Military Intelligence Service (MIS) as a member of the famed "Merrill's Marauders". Matsumoto's story is more poignant, as his parents were living in Hiroshima when that city was destroyed by the first atomic bomb, and in charge of interrogating family members who served in the Japanese Army during the American Occupation following the war.  One of the most highly decorated Nisei soldiers in WW II, he was honored in both the Army Ranger and MIS Halls of Fame.  His story captures the heart and imagination and illustrates the true meaning of sacrifice, courage, and patriotism.
Roy Matsumoto, 99 years, will be in attendance accompanied by Kimiko his wife and daughter Karen for this premiere showing and reception.
Saturday, February 16, 2013, at 1:00 to 3:00 p.m., a reception with Roy Matsumoto immediately following the event in the Secretary of State's Auditorium/Rotunda, 1500 11th Street, Sacramento, CA
(Free parking across the street, entrance through the alley)
Donation at the door:  $20.00/person for adults, $15.00 for students.
Includes reception with Roy Matsumoto and admission to the Museum.
For additional information:  Sacramento: (916) 427-2841, or 447-0231,
Lodi: (209) 478-2499, and Placer County: (916) 508-6587 or www.nctor.org
"Time of Remembrance Discovery Program: The Japanese American Experience", is a multi-media educational program where students learn about the Japanese American experience during World War II from those who lived it.  This powerful program includes a walk through a re-creation of an incarceration camp barrack, see the replica guard tower and hear personal stories from volunteers of Japanese ancestry.  For eight weeks, students from throughout Northern California explore concepts such as citizenship, constitutionality, and redress.
STUDENT EDUCATION PROGRAM:  January 28 – March 22, 2013,
The California Museum, 10th and O Streets, Sacramento, CA.
For information or to schedule student group's contact:  Shelly Heyes or
Bernadette Montez at 916-654-1729 or reservations@californiamuseum.org
The NCTOR and its educational partners, The California Museum, Elk Grove Unified School District, and the California State University, Sacramento, Library, Special Collections, plan these activities in remembrance of the signing of Executive Order 9066, which suspended due process and resulted in the unjust incarceration of 120,000 Americans of Japanese ancestry into America's concentration centers during World War II.
PLATINUM SPONSOR: DELEGATA – SOLUTIONS WITHOUT BORDERS KAIS MENOUFY