"AND THEN THEY CAME FOR US"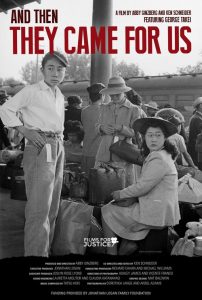 The Northern California Time of Remembrance committee (Florin, Lodi, Placer County, and Sacramento JACL chapters) announces exciting and inspiring events that commemorate the 75th signing of Executive Order 9066, which suspended due process and resulted in the unjust incarceration of 120,000 Americans of Japanese ancestry into America's concentration centers during World War II. Saturday, February 10, 2018, 1:00 to 4:00 p.m. at the California Museum, 1020 O Streets, Sacramento.
"AND THEN THEY CAME FOR US" demonstrates, the registration and incarceration of Japanese Americans was one of the worst violations of constitutional rights in American history.  The U.S. government lied about the threat of espionage to justify the incarceration.  As members of the Trump administration have raised the specter of a Muslim registry and instituted an immigration ban against people from Muslim majority counties, they have cited the unconstitutional incarceration of Japanese American during World War II as the precedent.
This riveting film brings history into the present, retelling this difficult story and following Japanese American activists as they speak out against the Muslim registry and travel ban.  Knowing our history is the first step to speaking up and ensuring we do not repeat it.  Satsuki Ina, noted psychologist and film maker, will participate in the question and answer period following the screening.
Tickets are $20 per adult and $15 for college students, 18-25 and free for students
17 and under, including light refreshments and admission to view all current Museum exhibits, such as, "Uprooted! Japanese Americans During WWII" and the Unity Center.  Proceeds will benefit all of the NCTOR Committee's activities, including the California Museum's field Trip Tour program, providing students with tours of "Uprooted! Japanese Americans During WWII" and presentations led by formerly-incarcerated docents and volunteers.
For more information contact Nancy Whiteside at (916) 508-6587 or nwhitesi@hotmail.com or visit: www.nctor.org or call (916) 427-2841.
Download sponsorship form here (PDF).
---
The Museum's longest running exhibit, "Uprooted! Japanese Americans During WWII," surveys a century of Japanese American history in California.
Japanese immigrants and their American-born children overcame racial prejudice as they established businesses and farms, built thriving communities and contributed to the state's prosperity. Following the bombing of Pearl Harbor on December 7, 1941, they faced increased hostility and discrimination.
The tension came to head when President Franklin D. Roosevelt signed Executive Order 9066 on February 19, 1942. Under the order, military commanders could designate "military areas" as "exclusion zones," from which "any or all persons may be excluded." The order cleared the way for the forced removal of all Japanese Americans from the West Coast. By the spring of 1942, 120,000 Japanese Americans were forced to into hastily-built "Assembly Centers" in fairgrounds and racetracks. Eventually they were moved to ten long-term incarceration centers in isolated areas, including Manzanar and Tule Lake in California.
Following the history of Japanese Americans in California, visitors experience life behind barbed wire in a re-created barracks and hear first-person stories of the incarceration through interactive video kiosks. The exhibit includes photographs, art and artifacts from the Japanese American Archival Collection at Sacramento State and private lenders.
Continuing through the 1980s, the exhibit also chronicles how Japanese Americans overcame the hardships of incarceration and worked to establish their lives and their communities, and ultimately won redress for their wartime losses. Visit California Museum here.