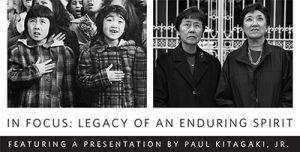 "Gambatte! Legacy of an Enduring Spirit" a special event featuring Paul Kitagaki, Jr., The Sacramento Bee photojournalist presented by the Japanese American Citizens League's Northern California Time of Remembrance (NCTOR) committee, on Saturday, February 14, 2015, 1:00 to 3:00 p.m. and reception from 3:00 – 5:00 p.m. at The California Museum, 1020 O Street, Sacramento.
This special event features a multimedia presentation by Kitagaki who has been searching since 2005 for the identities of Japanese immigrants and Japanese Americans whose images of forced relocation in 1942 were captured by acclaimed documentary photographer Dorothea Lange and other with the War Relocation Authority.  His work has captured contemporary images of Japanese Americans documenting their legacy of perseverance over their incarceration during WWII.
Tickets are $20.00 per adult and $15.00 for students, and free for students 17 and under, including complimentary refreshments, Museum admission and free parking for Museum visitors in surface street lot at the corner of 10th and O Streets.  Proceeds will benefit all the "Time of Remembrance" activities including the discovery program, providing students with tours of the Museum's exhibit "Uprooted! Japanese Americans During WWII" led by a formerly incarcerated docent and volunteers.
Tickets for the Kitagaki program will be limited to 225.  For more information contact Nancy Whiteside at (916) 508-6587 or Christine Umeda at (916) 427-2841or please visit: www.nctor.org
Discovery Program:  The Japanese American Experience – January 26 – March 20, 2015.
The California Museum, 10th and O Streets, Sacramento, CA
A multi-media educational program where students learn about the Japanese American experience during World War II from those who lived it.  Aligning with State Content Standards on social science and language arts for 3rd through 8th grades, this learning program provides students the opportunity to experience life in a WWII incarceration center through the first-hand experiences of formerly-incarcerated docents and volunteers.  This powerful program includes a walk through a re-creation of an incarceration center barrack, and see the replica guard tower.  For eight weeks, students from throughout Northern California explore concepts such as citizenship, constitutionality, and redress.
For information or to schedule student group's, contact: californiamuseum.org education link or email to:  reservations@californiamuseum.org
GAMBATTE! "LEGACY OF AN ENDURING SPIRIT" – January 26  until May 3, 2015
Paul Kitagaki, Jr., exhibition of completed works on display at The California Museum beginning January 26, 2015.  Kitagaki set out to create a collection of contemporary portraits mirroring the works of U S. War Relocation Authority staff photographers including Dorothea Lange.  The photographs document the moment the lives of Japanese Americans changed forever, Kitagaki's images record their enduring spirit.