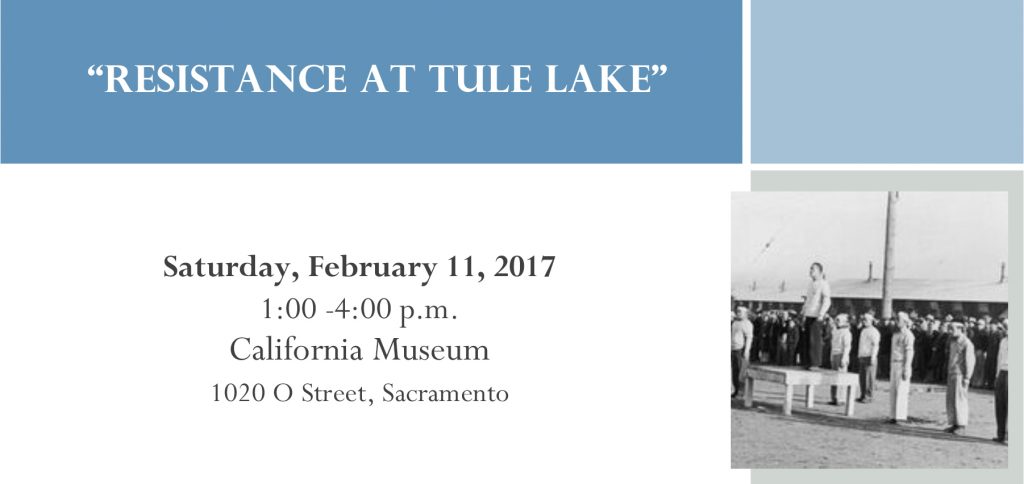 The Northern California Time of Remembrance committee (Florin, Lodi, Placer County, and Sacramento JACL chapters) announces exciting and inspiring events that commemorate the 75th signing of Executive Order 9066, which suspended due process and resulted in the unjust incarceration of 120,000 Americans of Japanese ancestry into America's concentration centers during World War II. Saturday, February 11, 2017, 1:00 to 4:00 p.m. at the California Museum, 1020 O Streets, Sacramento.
"RESISTANCE AT TULE LAKE" tells the long-suppressed story of 12,000 persons of Japanese ancestry who dared to resist the U.S. government's program of mass incarceration during World War II. Branded as "disloyals" and re-imprisoned at Tule Lake Segregation Center, they continued to protest in the face of militarized violence, and thousands renounced their U.S. citizenship. Giving voice to experiences that have been marginalized for over 70 years, this documentary challenges the nationalist, one-sided ideal of wartime "loyalty".
See this shorter version of RESISTANCE and interact with Konrad Aderer, documentary filmmaker and television journalist based in New York City. Konrad's independent documentaries (lifeorliberty.org) have focused on resistance to policies targeting immigrant communities in the U.S. His 2011 feature documentary ENEMY ALIEN, on the fight to free a post-9/11 detainee, won a Courage in Media Award from the Council for American Islamic Relations (CAIR). ENEMY ALIEN was featured at the 2011 NCTOR event.
Tickets are $20.00 per adult and $15.00 for college students, 18-25 and free for students 17 and under, including complimentary refreshments and admission to view all current Museum exhibits. Proceeds will benefit all the "Time of Remembrance" activities including the California Museum's "Time of Remembrance" Field Trip Tour program, providing students with tours of the exhibit "Uprooted! Japanese Americans During WWII" led by formerly-incarcerated docents and volunteers.
For more information contact Nancy Whiteside at (916) 508-6587 or nwhitesi@hotmail.com or visit: www.nctor.org or 916-427-2841.
Discovery Program: The Japanese American Experience – January 23 – March 17, 2017. The California Museum, 10th and O Streets, Sacramento, CA
A multi-media educational program where students learn about the Japanese American experience during World War II from those who lived it. Aligning with State Content Standards on social science-history and language arts for 3rd through 8th grades, the California Museum's "Time of Remembrance" Field Trip Tour program provides students the opportunity to experience life in a WWII incarceration camp through a guided tour of "Uprooted! Japanese Americans During WWII" featuring replica barracks and guard tower led by a formerly-incarcerated docent. Offered January 23 through March 17, 2017, the eight-week program explores citizenship, constitutionality and the concept of redress.
For more information or to book a tour, visit http://www.californiamuseum.org/timeremembrance. For press materials or media assistance on the "Time of Remembrance" Field Trip Tour program, please contact Brenna Hamilton, Communications & Marketing Director, California Museum at (916) 651-0934 or bhamilton@californiamuseum.org.
The NCTOR presents these commemorative activities with its educational partners, the California Museum, the Elk Grove Unified School District, and the California State University, Sacramento, Library, Special Collections.