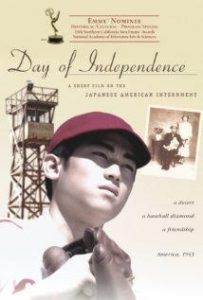 The second annual Northern California JACL Time of Remembrance will be held on Saturday, Feb. 21, from 11 a.m. to 5 p.m. at the Golden State Museum, located in the Secretary of State Building Complex, 1500 11th St. in downtown Sacramento.
The event is jointly sponsored by the Florin, Lodi, Marysville, Placer County, Sacramento and Stockton chapters of the Japanese American Citizens League.
"Day of Independence," a short dramatic film set in an internment camp during World War II, will be shown from 12 to 1 p.m. and again from 2 to 3 p.m.
An interactive camp experience workshop will be held for high school and college students at 12 p.m. and for other adults at 2 p.m.
"What kind of tough choices did Japanese Americans meet when they were unfairly evacuated to World War II concentration camps?" said an event organizer. "What would you do? How would you decide?
"How would you react if it happened to your family or to the families of Arab, Muslim and Sikh Americans faced with similar backlash today?
"Experience some of those challenges yourself and provide the answers in this unique workshop prepared by the JACL youth advisors."
A historical exhibit will feature a replica of a barrack and guard tower. There will also be information booths and book signings.
Funding for the event was provided by the CSU Sacramento Library and Japanese American Archival Collection Advisory Committee.
'Day of Independence' film 
Tim Toyama and Chris Tashima are the creators of "Visas and Virtue," the 1997 Academy Award winner for best live‑action short film. They said their new film "explores one family's experience and examines the sacrifices and triumphs of those who endured and survived through perseverance, courage, and the all-American game of baseball …
"As with `Visas and Virtue,' we have crafted a high‑quality, first‑rate film that sheds light on a part of recent history that is still unknown to so many Americans and is glossed over in today's history books. `Day of Independence" will entertain, inform, and reach thousands, if not millions, of people for years to come.
"Our story takes place in 1943. Zip (played by Derek Mio), 17 years old, is the star pitcher of the camp baseball league. His best friend, Hog (played by Marcus Toji), also 17 years old, is a homerun‑hitting catcher.
"Zip's prized possession is an autographed photo of Joe DiMaggio that's pinned to a wall in the barracks where he lives with his parents. After the Boys' Day baseball game, Zip is awarded the Most Valuable Player trophy.
"Then Zip learns his parents have decided to return to Japan on a prisoner exchange ship. His father cannot walk and is dying; he wants to be buried in the ancestral cemetery.
"Zip assumes that he'll be going to Japan with his parents. However, they have decided that Zip is to stay in America. Zip tries desperately to persuade them to change their decision …
"The day of departure, Zip gives his MVP trophy to his parents. They give him a photo of themselves … Time passes and Zip has not heard from his parents. Having no idea where they are, he worries.
"He chastises himself, and in the 4th of July game, is not the great baseball pitcher of a month ago. But a letter has arrived …
"Inspired by actual events, `Day of Independence' tells the story of an American family and a decision that challenges a son to find strength.
It shows that heroes are not necessarily found only on a battlefield, or even a baseball diamond. Heroes can be our parents.
"This film is based on the … experience of Tim Toyama's grandparents, who returned to Japan on the prisoner exchange ship, the Gripsholm. Many on the project team have parents and grandparents who experienced the internment first‑hand. We dedicate `Day of Independence' to our ancestors for their sacrifice, spirit and will to persevere."
Toyama will be on hand to discuss the film, which was shot in Stockton and Los Angeles last spring.
The cast also includes Alan Muraoka ("Sesame Street"), Keiko Kawashima, Ulysses Lee, Jonathan Okui, Gina Hiraizumi, and Tashima as "The Umpire."
Additional information on the film is available at the Cedar Grove Productions website at www.cedargroveproductions.com
Free parking is available at 10th and O streets, with additional parking at 11th and P.
Prepaid donation is $7.50 per person. Admission is free for students under 18.
Send checks payable to Florin JACL (with "NCTOR 2004" on the "memo" line) by Feb. 14 to: NCTOR 2004, c/o Joanne Iritani, 890 Sunwind Way, Sacramento 95831.
Indicate preferred screening time and workshop time. After Feb. 14, the cost is $10.
For more information, call (916) 395‑7944 or e‑mail fjiritani@aol.com.